Value folding carton
gluing machine.
Diana Go 85.
Time to go further.
The Diana Go is more than just the perfect folding carton gluing machine to step into the packaging business. The machine was especially designed in a short layout and finds a suitable place in your production almost everywhere. Its performance of up to 300 m/min is perfect for processing higher production runs. So of course the Diana Go can also be seen as a production supporting machine.
The machine concept allows you to process many types of packaging such as straight line, lock bottom and mailing envelopes from small to large. Masterwork and Heidelberg offer you a folding carton gluing machine with the highest safety standards, proven Diana technology with a certain extra flexibility and an unbeatable price-performance ratio.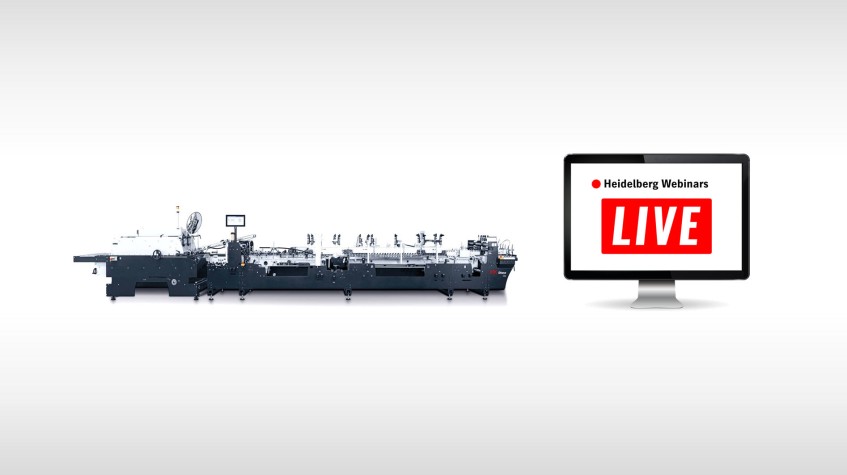 Webinar replay.
Watch the recording of our webinar and discover the features and benefits of the Diana Go 85.
Learn more
Technical specifications.
| | |
| --- | --- |
| | Diana Go |
| Material (carton) | 200 - 600 g/m² |
| Material (corrugated board) | Up to F-flute |
| Min. carton width | 75 mm (45 mm optional) |
| Max. carton width | 850 mm |
| Max. speed | 250 m/min (300 m/min optional) |
| Max. machine length | approx. 9.9 m (alignment module optional) |
1. Feeder and alignment
Designed for fast set-up
Friction belts with fast positioning carriers
Friction belt change in less than a minute without pulling driving shafts
Precise length and pressure adjustable feeder gates for a good control of even odd shaped boxes
Suction feeder system (option)
Blank alignment as option available
Alignment can be done to the right or left side
Alignment ruler sideways adjustable up to 40 mm
2. Prefolding module
Low side frame design gives perfect accessibility for the operator
Prebreaking for crease lines 1 and 3
Prepared for code reader
Lock bottom attachment (option)
3. Folding station
Shiftable upper right and left roller bar
Left before right
Central carriers as option: upper and lower roller bars can be easily installed and removed due to the lightweight design
Belt fold down to 45 mm open carton width are possible (option)
4. Machine interface and automations
Touchscreen for machine operations
Easy, intuitive handling of machine interface with self-explanatory navigation menu
Manu-Set function
5. Transfer section
Two upper and lower carriers
Manual adjusting of upper carriers and lower carriers
Ejector optional
- Linear ejctor
- Rotary ejector
6. Compression section
600 mm wide compressing belt
1.6 m Pressing Section
Soft rubber belt for precise pressure balance (option)
Start/Stop function (option)
What our customers say.
Polygravia, Switzerland
& UAB Druka, Lithuania.
When they signed the contract to purchase the Diana Go 85, neither Benoit Ayer from Polygravia, Switzerland (2nd to the left on the picture) nor Algirdas Apulskis and Tomas Ketlerius from UAB Druka, Lithuania (in the middle) had ever seen the machine.
"We fully trust the quality of Heidelberg products. That's why we signed the contract for the new Diana Go 85 before we even saw it. The first time we had an opportunity to experience this machine live was at a customer event at Masterwork in Slovakia in March 2019. Our trust has totally paid off".
Have a question, need a quote?
Talk to sales.