Heidelberg and WEIG implement new digital business model for folding carton printing
02/06/2018
Heidelberg supplies complete package comprising presses, software, services, and consumables under subscription agreement
Industry 4.0 solution ensures excellent availability and productivity across entire system
WEIG can achieve growth targets based on state-of-the-art technology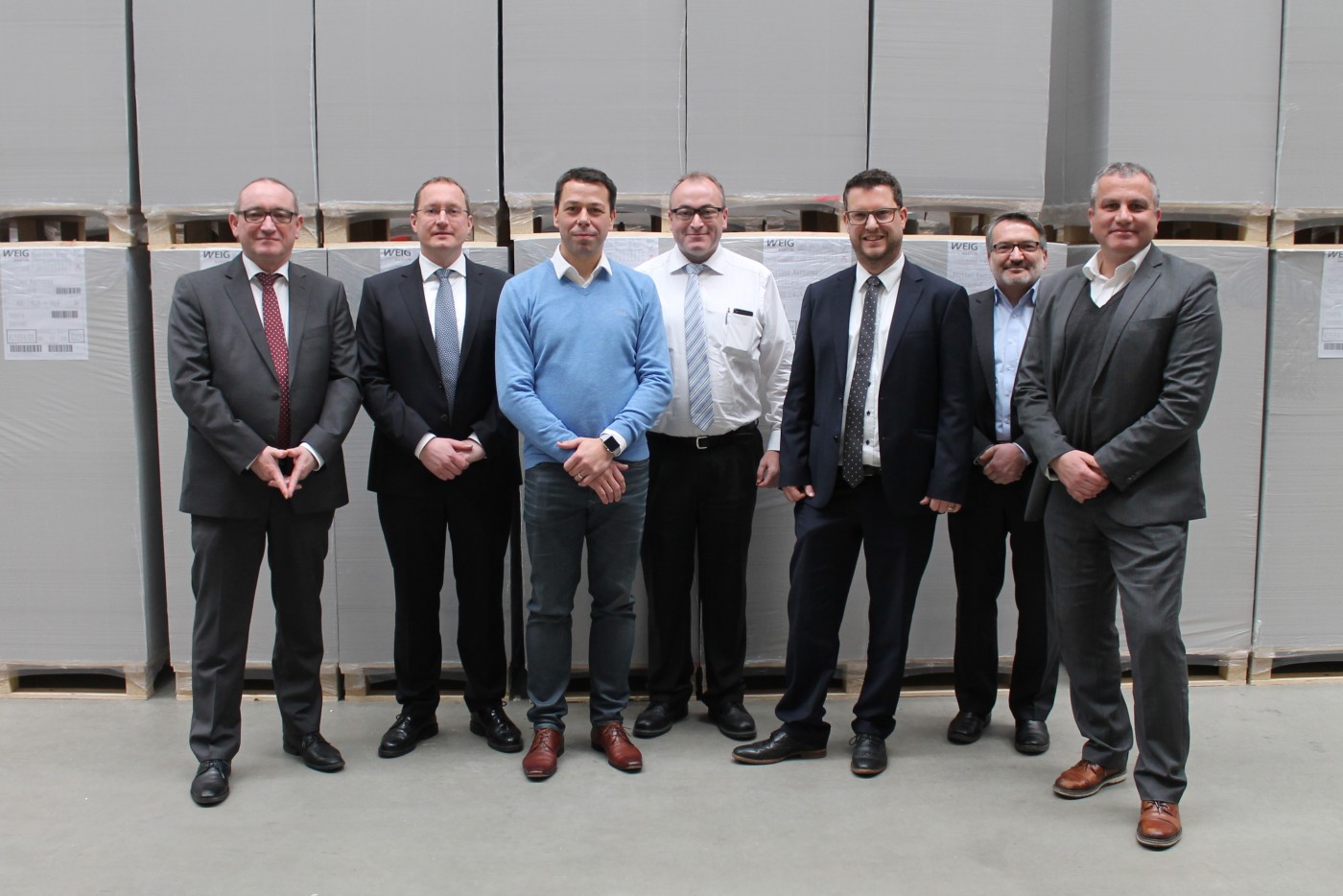 WEIG Packaging opts for Heidelberg subscription model: (from the left) Siegfried Mahr, Managing Director of WEIG Packaging, Dr. David Schmedding, Head of Corporate & Digital Business Development at Heidelberg, Mike Niebuhr, head of the folding carton plant in Emskirchen, Toni Steffens, Commercial Director of WEIG Packaging, Markus Rinkens, head of procurement at WEIG Group, Harald Degen, Branch Heidelberg Munich and Dirk Kummer, Heidelberg Munich Branch Manager.
Growth is on the cards for folding carton producer FK Fürther Kartonagen, which forms part of the WEIG network of companies. In creating a new digital business model, WEIG is drawing on the experience, advice, and technology of Heidelberger Druckmaschinen AG (Heidelberg).
"We're looking to turn our Emskirchen site into a folding carton business that leads the way when it comes to availability and flexibility. We're therefore entering into a partnership with Heidelberg in which our strategic and business interests are aligned. Under the new business model, Heidelberg will no longer make its money by supplying press components, but solely by achieving agreed productivity and growth targets," explains Toni Steffens, Commercial Director of WEIG Packaging.
The Heidelberg subscription model follows the growing pay-per-use trend in mechanical engineering and aims to move away from growth based solely on selling and installing printing capacity.
Customers pay for usage in new Heidelberg digital business model
New approach offers increased availability and new possibilities for users
Further information