Sivakasi's Shunmuga Thermal System Installs Heidelberg Suprasetter CtP A106
09/28/2016
Sivakasi-based Shunmuga Thermal System invested in a Heidelberg Computer-to-Plate Suprasetter A106 to bring the CTP plate making process in-house, marking a departure from a tradition of outsourcing the pre-press operation.
This installation not only reasserts Heidelberg's market dominance in Sivakasi, a major printing hub in South India, but also is indicative of a growing trend of printing firms that aim to internalize CTP plate making.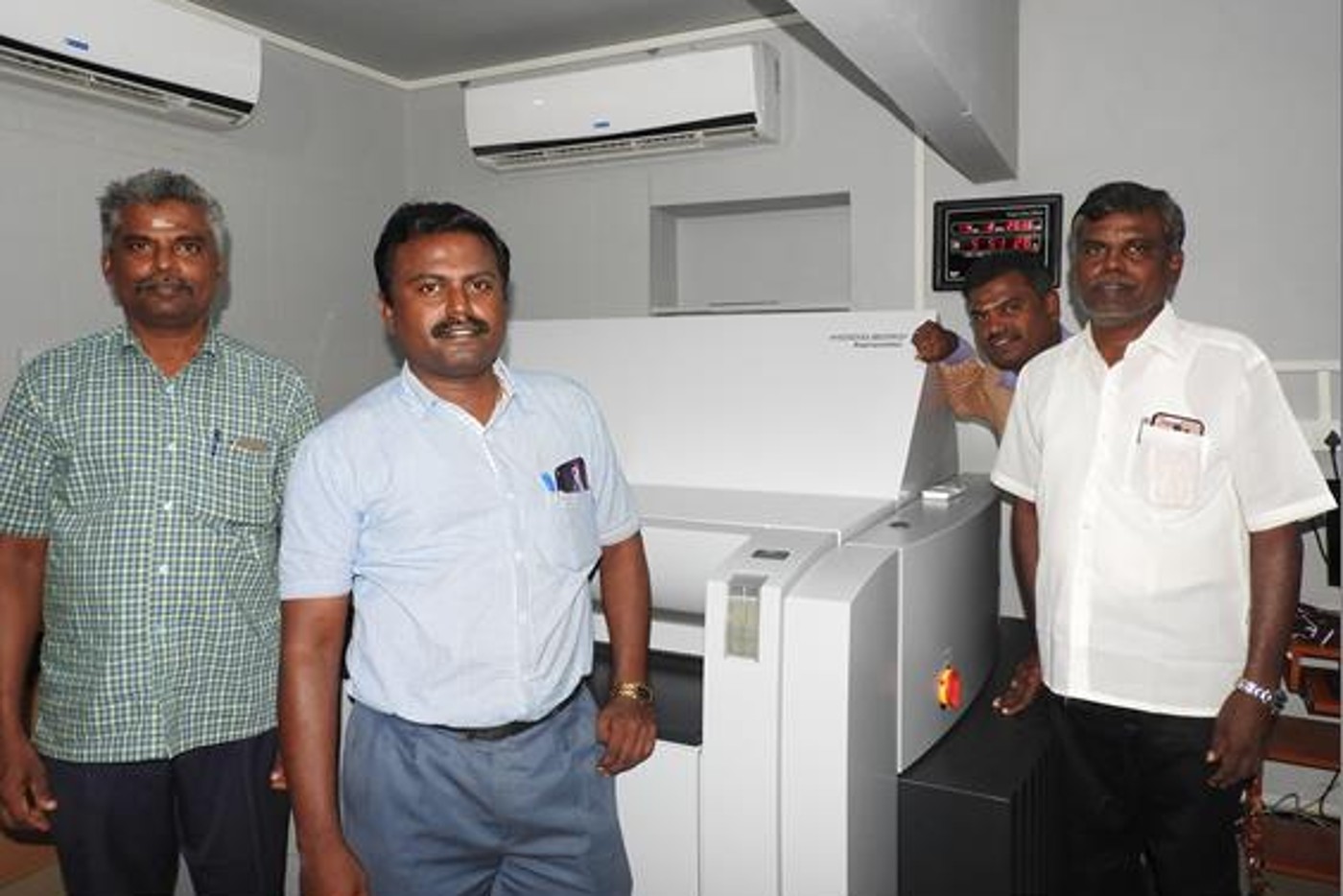 Team Shunmuga with brand new Heidelberg Suprasetter A106 CtP equipment
"Our latest addition - the Heidelberg Suprasetter CtP 106 - is a game changer. Having an in-house plate-making facility has helped cut down on outsourcing time and costs, with a tremendous positive impact on productivity and quality. Heidelberg's pre-press and press standardization is a job well done," comments Thavasi kumar, the co-founder of Shumunga Thermal Systems.
A high-performance, pre-press equipment designed for medium formats, the Suprasetter A106 can produce up to 18 full-sized plates /hour, and expose plates in sizes ranging from 370x323mm to 930x1140mm. Exceptionally low power consumption renders a long laser life for the Suprasetter A106, a strong credential that appeals to customers like Shunmuga.
Established as a commercial printing unit in 1985 by self-made entrepreneurs and brothers - Thavasi Kumar and Sampath Kumar, the three-decade old company embarked on a historic journey without much fanfare, printing calendars and notebooks. Later, with the entry of two more siblings - Prakash Prabu and Suresh Babu, the family-owned business got a complete marketing makeover.
Today, it operates out of a 12,000 square feet production facility, and continues to specialize in printing school notebooks. The production shop floor is equipped with a Heidelberg SM 102 five-color press with perfector – operating in multiple shifts, in addition to two other two-colour and four-colour presses. The Postpress division includes state-of the-art cutting, finishing and lamination equipments.
"The addition of the Suprasetter A106 with the Prinect workflow embellishes our press portfolio. Such an imperative and impressive prepress service in-house will support our endeavor to capitalize on market opportunities, expand our customer base and strengthen our professional offerings," Sampath Kumar remarks confidently.
Ganesh Kumar, Senior Sales Manager – Heidelberg states, "Heidelberg's proprietary Intelligent Diode Systems (IDS) insulates plate-setters against production failures. The IDS ensures that there is no snag in operations, even if a diode fails."
At the heart of the Suprasetter A106, lies Heidelberg's proprietary thermal laser technology. The exclusive laser system fosters, excellent imaging quality, and precise optics. The emitters switch "on" only while exposing the plate, thus drastically reducing the power consumed, while also preventing long downtimes.
Any adverse impact from external temperature is prevented through an integrated cooling system. A temperature stabilizer maintains the temperature of all the components relevant to imaging at a constant level, so the imaging of printing plates always happens under the same conditions.
"We are happy to be associating with Heidelberg, a print pioneer at the forefront of innovation and production. Heidelberg India's excellent after-sales support, service and training certainly merit a special mention here," concludes Thavasi Kumar.
Further Information
Publications

The latest information - everything on innovations from Heidelberg and what's new in the print media industry. Heidelberg News


Products & Services

From prepress to postpress, no matter if it's about classic sheetfed offset, digital printing or special applications like UV printing, explore the products and services on our corporate webpage.


Think Economically, Print Ecologically

Minimizing waste, energy consumption, and emissions
more

CO₂ Neutral Machines

Since drupa 2012 all machines are available CO2 neutral.
more