Printwell installs Amritsar's first Heidelberg Speedmaster SX74
11/12/2018
Printwell earned the distinction of installing Amritsar's first Heidelberg Speedmaster SX74 four-color press, as part of a strategy to create new growth platforms. A commercial printer, Printwell specializes in books, catalogues and brochures.
"Associating with a world-class brand like Heidelberg is a key milestone in achieving our long-term vision. With this unique investment in innovation and productivity, we are confident of a step change in our future earnings power," Gurinder Singh, Managing Director of Printwell, comments on his latest acquisition.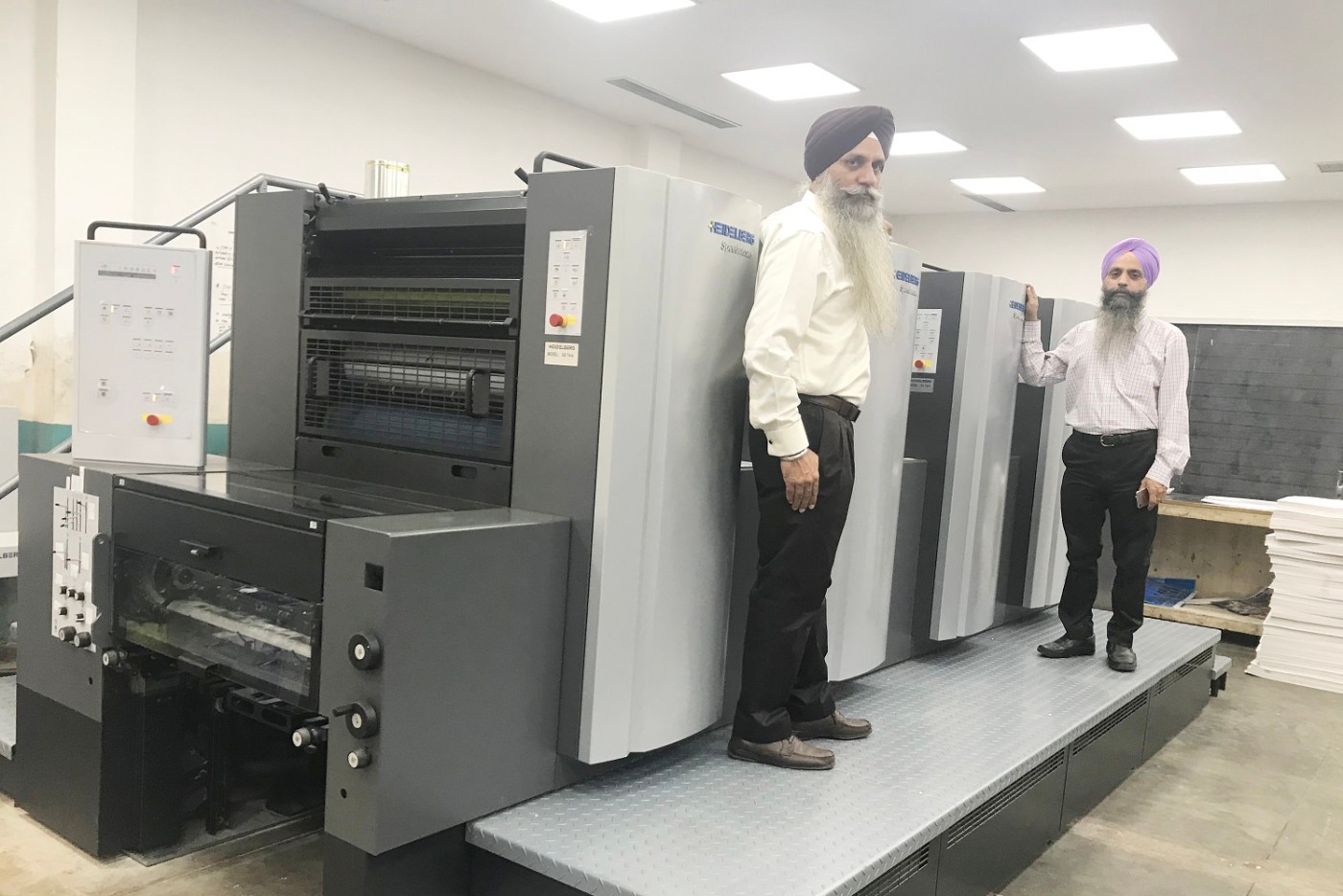 From Left: Gurinder Singh and Ravinder Singh of Printwell with the Speedmaster SX 74 four colour press.
Established in 1994 to bring international standards to regional publication, Printwell has taken huge strides forward in its mission. From using pre-owned equipment to installing a new Heidelberg Speedmaster SX74 - the first-of-its-kind in Amritsar, Printwell's journey has been remarkable.
A top-seller in its class, the Speedmaster SX-74 builds on Heidelberg's perfecting legacy, combining technology of the XL class with the tried-and-tested SM platform, delivering productivity improvements of up to 30% over SM peers, at price points lesser than XL counterparts.
Best-suited for commercial printing and packaging jobs in mid-size format, the SX-74 supports a wide spectrum of substrates from thin sheets to boards, ranging in thickness between 0.03 mm and 0.6 mm. Shorter make-ready and throughput times, with production speeds of up to 15,000 sheets per hour, render the press ideal for short-run jobs.
"With quicker make-ready and high speed print output, the SX-74 is a precise fit into our commitment of delivering on-time, top notch work," states Gurinder Singh.
Designed for eco-friendly operations, the Speedmaster SX-74 cuts alcohol usage to 3% from 10%, saving172 liters of alcohol for every ten million printed sheets. This is done by using special rollers in the Alcolor dampening system.
"The SX74 is equipped with surface technology to enhance service life and extend wash-up intervals," states Peter Rego, Business head – Equipment Sales of Heidelberg India. "The color Assistant Pro component enables fully-automated monitoring of the ink fountain liner and self-calibration of ink zones, speeding up the inking unit response by 50 to 70 percent," Rego adds.
Heidelberg's proprietary Intellistart feature incorporated in the SX-74 compares the current press status with parameters of the next job, and generates the complete sequence of operations to be performed to change jobs intelligently and dynamically. On average, the Intellistart facilitates 70% fewer operations for every job change, with schedulable setup times and constant time savings.
"Integration of the Prinect Press Room Manager with SX-74 empowers the user to control all pressroom operations from the office. A user can monitor the current job, production speed, make-ready requirements, paper usage, idle time and much more. The Prinect software manages information to guarantee automatic and timely delivery of print jobs to production, "states Peter Rego.
"The SX 74 gives us incredible firepower to scale up our offerings, while ensuring competitive advantage. We are well positioned to capitalize on the opportunities ahead," Gurinder Singh concludes on an optimistic note.
Further Information
Publications

The latest information - everything on innovations from Heidelberg and what's new in the print media industry. Heidelberg News


Products & Services

From prepress to postpress, no matter if it's about classic sheetfed offset, digital printing or special applications like UV printing, explore the products and services on our corporate webpage.


Think Economically, Print Ecologically

Minimizing waste, energy consumption, and emissions
more

CO₂ Neutral Machines

Since drupa 2012 all machines are available CO2 neutral.
more