Punjab based Florid Print & Pack Invests in Brand new Heidelberg Speedmaster SX-74-4, Polar 115PF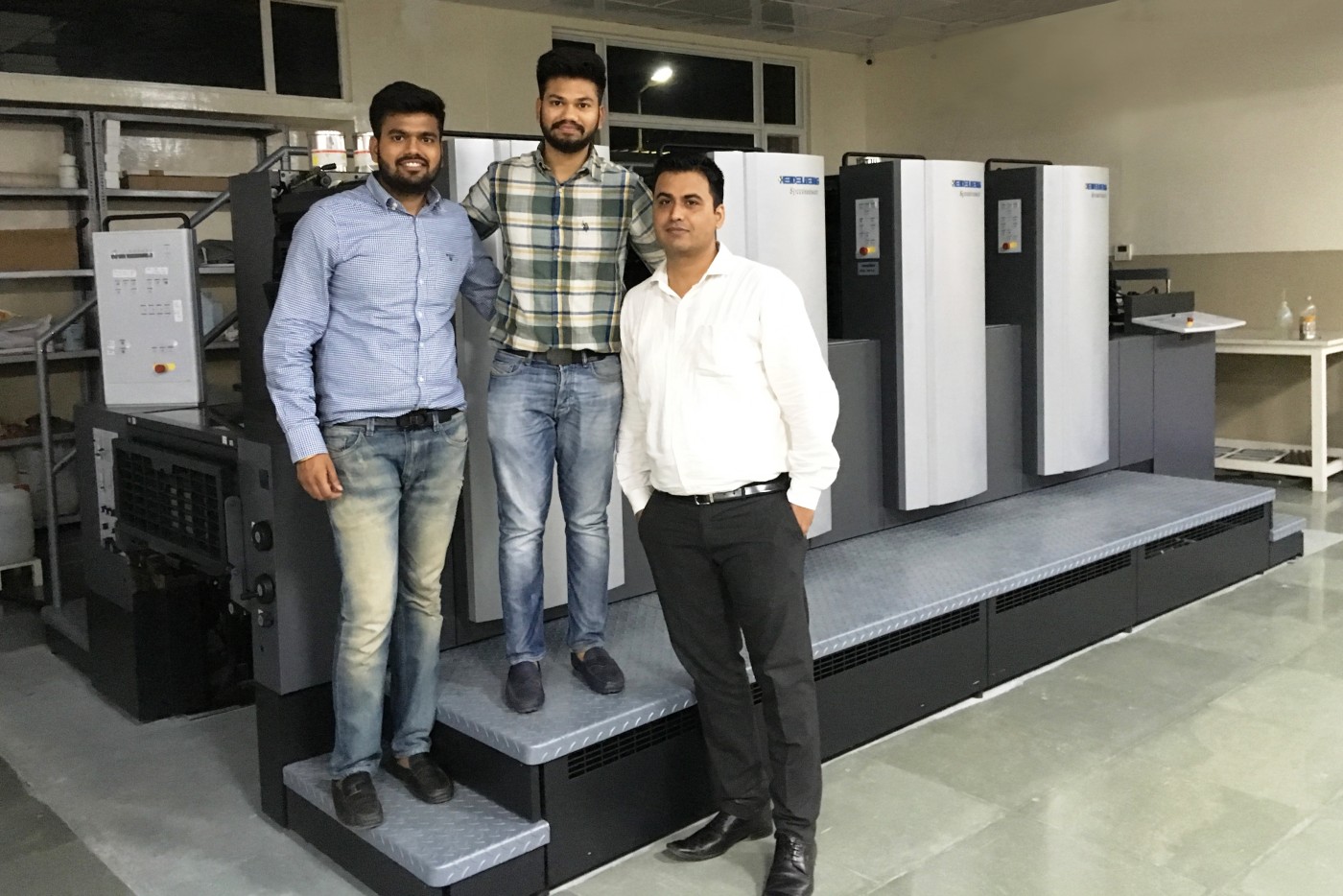 (From Left to Right) Girish Mittal and Hitesh Mittal with Sunil Kumar of Heidelberg India, with the Speedmaster SX 74 press.
Florid Print & Pack from Patiala has invested in a brand new Heidelberg Speedmaster SX-74 four-color press and Polar 115PF cutter, as part of its business strategy to explore new revenue opportunities.
Managing Directors - Hitesh Mittal and Girish Mittal - spearhead operations at Florid Print & Pack Pvt. Ltd. Running a successful stationery business in Punjab, the Mittals were outsourcing printing jobs as a value-added service to customers. On perceiving strong demand, they decided to leverage the market potential and expand into printing business.
"Our confidence in this opportunity is reflected by our recent acquisition of a brand new Heidelberg SX-74 and Polar 115PF. We expect to build on the strong connection we have already established with our customers," beams Hitesh Mittal.
The Heidelberg Speedmaster SX-74 is winning combination of the cutting-edge technology of the Speedmaster XL class with the tried-and-tested platform of the SM series. The hybrid press is designed for ergonomic operation, shorter make-ready and throughput times, with production speeds of up to 15,000 sheets per hour.
"The SX-74 is a dream," pipes in Girish Mittal, "the price/performance ratio is impressive. Currently, we are starting out with single-shift operations. We find the press extremely cost-efficient for short-run jobs and frequent job changes, even for a one-shift model like ours."
Engaged in commercial printing, publishing and packaging, Florid Print & Pack specializes in visiting cards, Flyers, posters, diaries, calendars, brochures, letter heads, invitation cards, flex boards, envelopes, and magazines…to name a few. "The SX-74 provides amazing color stability and standardization to print output. The press is an ideal fit into our business," comments Girish Mittal.
"Heidelberg's proprietary colorimetric control using the Prinect system ensures 100% color fidelity through print production. This reduces paper wastage, while promoting easy reproducibility," says Sunil Kumar, Senior Sales Manager.
Florid's recent investment in a brand new Polar 115 PF cutter also plays an imperative role in its postpress production efficiency .
A high-speed cutter that is best-suited for offset formats of 63 x 88 cm, the Polar 115 PF is the best-seller in its class of equipment. An OptiKnife knife changing system facilitates faster knife changes and shortest make-ready times, leading to high efficiency. The Polar positioning-system DPS with a mechanical positioning accuracy of 1/1000 mm renders the greatest cutting accuracy to the Polar 115 PF. The stability of the single-piece machine frame lengthens lifespan and makes the Polar 115 PF highly reliable for everyday use.
"Our recent investment in Heidelberg's SX-74 and Polar 115PF cutter has positioned us to tap into a lucrative market segment. We look forward with excitement, as we embark on our new venture. A big thanks to Heidelberg India for supporting our dreams and growth initiatives," concludes Hitesh Mittal.
Further Information
Publications

The latest information - everything on innovations from Heidelberg and what's new in the print media industry. Heidelberg News


Products & Services

From prepress to postpress, no matter if it's about classic sheetfed offset, digital printing or special applications like UV printing, explore the products and services on our corporate webpage.


Think Economically, Print Ecologically

Minimizing waste, energy consumption, and emissions
more

CO₂ Neutral Machines

Since drupa 2012 all machines are available CO2 neutral.
more