Expert Talk.
Smart combination saves color changes in short runs.
As indispensable as spot colors are as part of the brand identity when designing packagings, their use in the printing process costs a lot of time and money when runs are short – due to the frequent color changes as well as the logistical effort of providing the small quantities of ink at the right time.
But there is an alternative that is both clever and lucrative: producing short-run print jobs with "spot colors" simply without any color changes. This is possible with the Speedmaster XL 75 Anicolor 2 and Prinect Multicolor.
Product Manager Frank Süsser explains how it works, and the precise benefits and limitations of the process.
Mr. Süsser, producing short runs with "spot colors" without any color changes: how does that work?
We use a process established in offset printing: adding three more colors – orange, green, and violet – to the CMYK color space. Hundreds of spot colors can be reproduced in top quality from this color spectrum. Mixing of the spot color takes place digitally during the prepress stage using Prinect Multicolor . The technology is integrated in our Prinect workflow and easy to use. The printing press, ideally a Speedmaster XL 75-8+L Anicolor 2 , then prints one order after the other in the color sequence "B V C G M O Y", regardless of which spot color is desired. And all without washing the inking unit.
What makes the Speedmaster XL 75 Anicolor 2 the perfect machine?
The Anicolor technology has crucial advantages. Firstly, inking-up is very fast and requires very few start-up sheets. Secondly, it keeps the spot colors constant over the run, even with small quantities of ink. And the most important advantage: it does not use ink zones. This means that the inking does not need to be adjusted as long as the substrate remains the same, and one job after another can be completed. In principle, Prinect Multicolor can be used on all our printing presses. A seven-color inkjet system that covers up to 95 percent of the Pantone color space with Multicolor technology is used on our new flagship, the Primefire 106 .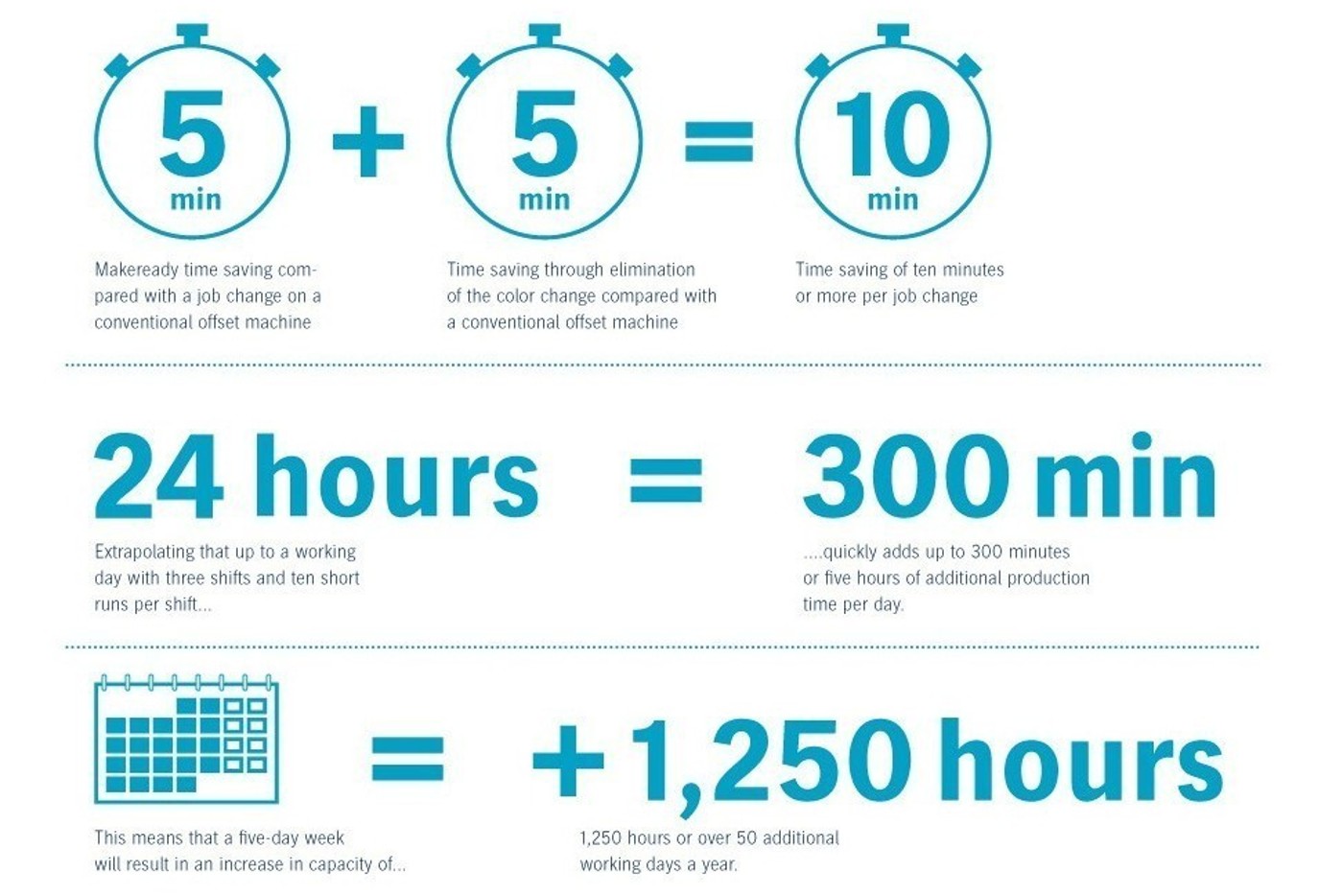 Exactly what kind of time saving are we talking about here?
Sub-five minute job changes are possible with the Speedmaster XL 75 Anicolor 2. This means a makeready time saving of around five minutes compared with a job change on a conventional offset machine. The elimination of the color change shortens the makeready times by a further five minutes. So you can quickly save ten minutes or even more time per job change. Extrapolating that up to a working day with three shifts and ten short runs per shift, that quickly adds up to 300 minutes or five hours of additional productive time per day. This means that a five-day week will result in an increase in capacity of 1,250 hours or over 50 additional working days a year.
What about the cost saving?
Since standard colors are being used, here are no process costs such as for the logistics of ink procurement and provision. On top of this, spot colors are only required in small quantities for short runs. Most of the ink therefore has to be either stored or disposed of. These costs are also eliminated, instead of reducing the profit margin for the individual job.

What other advantages are there, for example in terms of flexibility?
The nice thing about the Anicolor and Multicolor combination is that nothing is set in stone. If, for example, a customer, say a global brand manufacturer like Coca Cola, wants to insist on a "real" spot color or a metallic color, this can easily be done. Color changes on the Anicolor machine are very fast. The complete ink chamber is simply removed and placed to one side. The ink chamber is automatically washed. Once the job has been printed using the spot color, the ink chamber containing the process color is replaced in just a few simple steps. Additional flexibility is provided by the eight-color press with coating unit configuration. This is because a Speedmaster XL 75-8+L Anicolor 2 lets print shops additionally process a spot color in the eighth inking unit at the same time as multicolor printing or enhance the packaging with a coated finish.
How can customers ensure that the quality of the "spot color" meets the requirements?
This is ensured by the Multicolor Toolset during the prepress stage. It converts the spot colors into the seven process colors. The user is shown a preview of the multicolor profile in the color space on the screen and thus has full visual control. They can tell how good the inking is, and can decide early and reliably whether the job can be printed in multicolor.
What do packaging printers need to bear in mind when reproducing spot colors?
Print shops do not need to change their usual processes. The Multicolor Toolset can be integrated in our Prinect workflow as well as into common packaging workflows. Every possible grid can be used. However, the tolerances for variations in color are lower since more than four process colors are being processed. Precision is crucial, as is the use of the best possible consumables. We there recommend Heidelberg's Saphira consumables, which have been tested and tailored to the Speedmaster XL 75 Anicolor 2. This applies in particular to the inks, but also printing plates, rubber blankets, and other materials.
What do customers think about the Anicolor and Multicolor combination?
Packaging printers use the Speedmaster XL 75 Anicolor in combination with Multicolor both with conventional and UV inks. The low start-up waste means they save over EUR 150,000 per year on average. Then there are also the reduced logistics costs. The shorter makeready times and downtimes increase productivity by up to 20 percent. At the same time, the desired spot colors are achieved quickly and reliably. It goes without saying that our customers like the high quality and economic efficiency as well as the short throughput times. But so too do their customers, whose own delivery times are getting shorter and shorter. With our complete solution comprising Anicolor, Multicolor, and consumables, we provide our customers with a tangible competitive advantage.