Customer talk.
Karl Rädisch GmbH & Co KG, Germany.
The packaging print shop Karl Rädisch GmbH & Co KG based in Emskirchen is the first user worldwide to use the Promatrix 106 CS die cutter with the optical MasterSet register system. This has enabled the company to not only decrease paper waste and makeready times, but also increase production reliability.
Perfectly geared to precise and
productive die cutting
As a specialist in short and medium runs, Karl Rädisch is a go-to company for regional medium-sized customers when it comes to sophisticated packaging products. The 20 employees produce folding cartons, displays, and blister cards for companies from the stationery, toy, automotive, textiles, and cosmetics industries. "With our average run length of 5,000 to 6,000 sheets, the Promatrix 106 CS is the ideal machine for our requirements," explains Managing Partner Thomas Feuerlein. Because these runs mean frequent job changes. In addition, products like insertable or blister cards with punched holes require high precision in the die-cutting process.
Precise alignment of the cut sheets
The company has been using the Promatrix 106 CS since fall of last year. With its short makeready times and high productivity and production reliability, it helps to make workflows more efficient. One of the main reasons for this is the new feature on the press: the optical MasterSet register system. This precisely aligns each sheet using a camera. "This gives us a high degree of reliability and continuity in the die-cutting process," says Thomas Feuerlein. The print shop processes materials up to 700 g/m2. The potential of the Promatrix 106 CS is therefore more than sufficient for Karl Rädisch. The die cutter designed for short to medium runs can process materials between 90 and 2,000 g/m2 as well as corrugated cardboard up to a thickness of two millimeters. The maximum operational performance is 8,000 sheets per hour in 760 x 1,060 millimeter format.

The Promatrix 106 CS can process materials between 90 and
2,000 g/m2 as well as corrugated
cardboard up to a thickness of two millimeters.
Flexible and cost-efficient use
of the die-cutting tools
Thanks to its performance spectrum, ease of use and extensive standard equipment, some companies use the Promatrix CS 106 as their only die cutter and process even long runs reliably and stably. At Karl Rädisch, it joins another die-cutter from Heidelberg. "A prerequisite for purchasing the model was that it had to be compatible with our existing Varimatrix 105 CS," says Thomas Feuerlein. "We can use the die-cutting tools on both machines. This makes us very flexible in terms of which machine we use. It's also cost efficient." Add to this the good experiences with Heidelberg machines – not just for die cutting. For example, the company uses a Diana X 115 and a Diana 45-3 for folding carton gluing.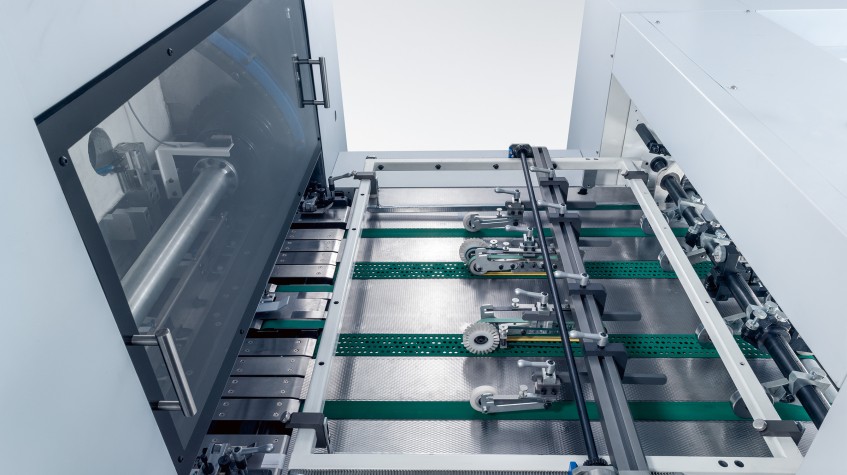 The MasterSet, here incorporated in the feed table, ensures precise sheet alignment in the press.
Precisely die-cut blanks with less paper waste
Among the many benefits, Thomas Feuerlein emphasizes the shorter makeready times: the quick-action clamping device included in the standard scope reduces the company's makeready time for each job change by 10 to 15%. The optical MasterSet register system ensures more stable and more precise die-cutting processes. By dynamically adapting the position of the sheet, it ensures perfect alignment of the print image and the die-cutting tool. The result is precisely die-cut blanks and less paper waste. "MasterSet helps us a lot," confirms Thomas Feuerlein. "For example, we can now punch holes to a diameter of four millimeters precisely and reliably. And with digitally printed jobs, MasterSet automatically adjusts the central alignment of the print image."
The company established in 1928 has increased production reliability and productivity with the Promatrix 106 CS. This is a huge help in continuing to fulfill its value proposition both economically and with great commitment: realizing customers' individual packaging ideas.
Karl Raedisch GmbH & Co KG
Bahnhofswald 9,
91448 Emskirchen, Germany
Tel :+49 09104 826250
karl-raedisch.de
Karl Raedisch GmbH & Co KG
Bahnhofswald 9,
91448 Emskirchen, Germany
Tel :+49 09104 826250
karl-raedisch.de