Navigated printing:
how does it work?

Navigated printing
with the Speedmaster
CX 102-6+L
Watch our demo.
Similar to a navigation system in a car, the navigated printing features built in Speedmaster machines provide operators with the information necessary for the best possible workflow sequence for the job change.
This is made possible by the patented Intellistart 2 software. But Intellistart 2 can do more. Automatic processes are parallelized insofar as possible and autonomously completed in a logical sequence. Intellistart 2 automatically calculates the quickest means to the end and guides the operator through the job change. Manual processes are also visualized and provide the operator with an overview at all times in the Intelliguide area on the new Wallscreen XL.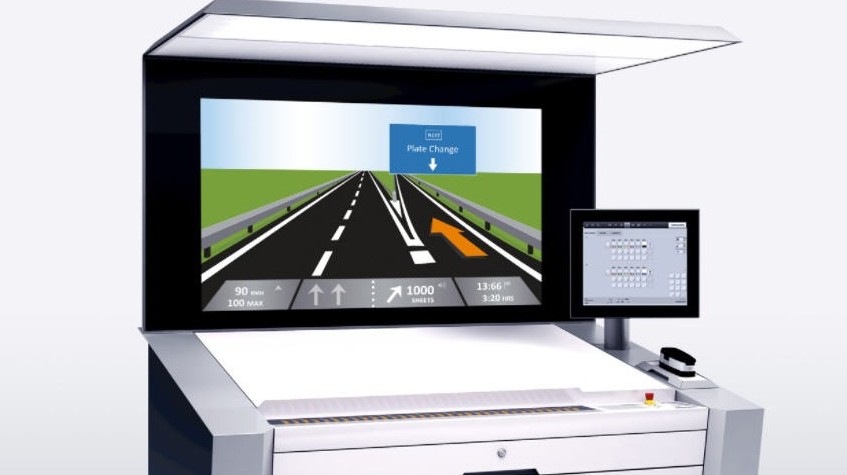 Intellistart 2 automatically calculates the quickest path to
reach the target and guides the operator through the job change.
Navigated printing was showcased live at drupa on a Speedmaster XL 106-6+LYYL . A reduction in makeready time of over 60% from 15 minutes to 5 minutes was demonstrated with the new automation components Hycolor Multidrive and AutoPlate Coating Pro. Despite all the options afforded by a press as highly equipped as this one, it is almost impossible for the operator to figure out the optimum makeready sequence every time. This is where Intellistart 2 comes in to ensure that the potential of the press is actually realized in day-to-day production.
Navigated printing is not limited to the Speedmaster XL series. Every press with Wallscreen XL and Intellistart 2 offers the option of navigated printing.