Customer portrait.
Aumüller, Germany:
It's all about the output.
State-of-the-art equipment, intelligent processes and committed employees make Aumüller Druck in Regensburg, Germany, an almost undisputed master of industrial commercial printing. And that's without taking into account the two masterminds at the top, who ensure the print shop's success.
Regensburg is booming, with the historic center of this southern German city having been designated a UNESCO World Heritage site in 2006. Since then, even more tourists have been winding their way through the picturesque streets to lap up the city's medieval architecture. Regensburg, which is often referred to as "Italy's most northern city," attracts between two and three million visitors a year. But not all of them are there just for sightseeing.
Time and again, print media experts from Germany and abroad come to the city to see a sight of a rather different kind – the family business Aumüller Druck in the neighboring Haslbach industrial park. This is because word has spread about how brothers Christian and Stefan Aumüller and their 150 employees have perfected the art of industrial sheetfed offset printing for customers such as BMW, Adidas, Audi and online print shop Flyeralarm – and visitors are curious to find out more.
"Within just weeks, we sometimes have to produce a total of 400 versions of operating instructions for different car models in 26 languages and deliver them to manufacturers' production plants in Europe."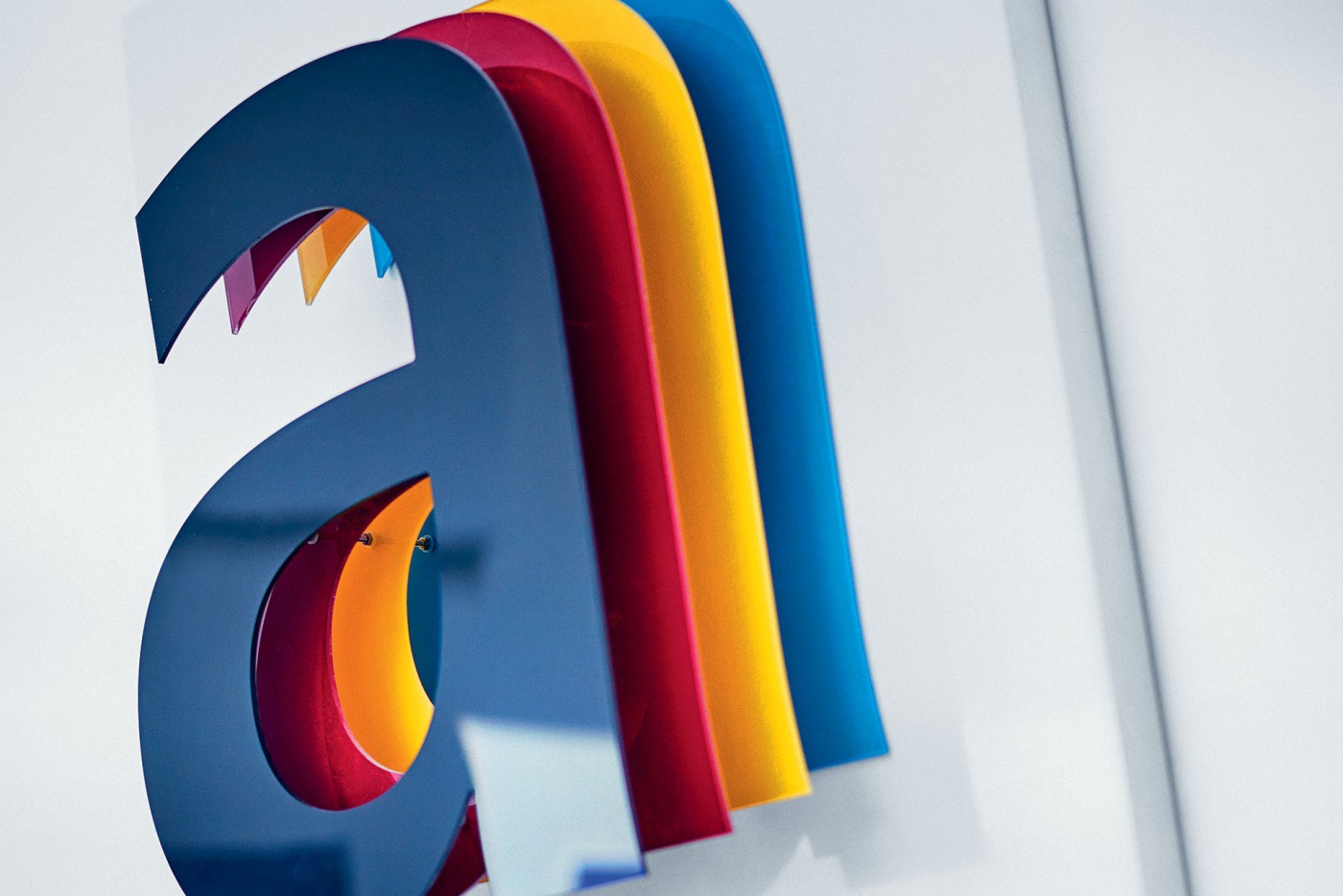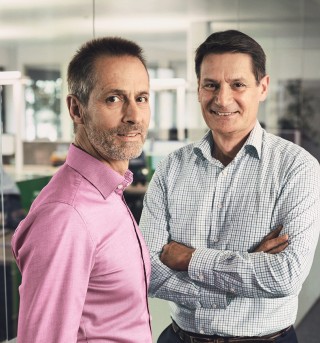 "Within just weeks, we sometime have to produce a total of 400 versions of operating instructions for different car models in 26 languages and deliver them to manufacturers' production plants in Europe."
Space for productivity
So what's the recipe for success devised by the two brothers, who have shared an office since joining the family business 30 years ago?
Partly it's for that reason. "It very quickly became apparent that working together in one room has a great many positive effects, as each of us knows what the other is working on at any given moment," explains Christian Aumüller, who with his brother Stefan is now the fourth generation to head the company, founded in 1888. A second success factor, which both mention, is rather unusual – space. When the company outgrew the original building in the old town, the brothers' father, Georg Aumüller, moved into a meticulously designed new building in 1972 that was gradually extended to some 130,000 square feet (12,000 sq. m) in a process that lasted till 2011. "The relocation and expansion were key building blocks for our industrial production and continue to be so, as space is the prerequisite for productivity," explains Stefan. "I can't simply buy a press with double the output without having space for double the amount of paper and print products."
Sophisticated press concept
Productivity is the watchword at Aumüller – "our goal," as the brothers say in unison, is not to optimize costs but output.
This is made possible not only by the fully digitized production control using Prinect, for example, but also by a smart press concept for end-to-end production in the 70 × 100 format. Six perfecting presses with 50 printing units are arranged together in the pressroom. They are all Speedmaster presses in the Peak Performance class with eight and 10 printing units, including a latest-generation Speedmaster XL 106. To cut down on waste and ensure maximum color stability on the fly, each press is equipped with Prinect Inpress Control. The simultaneous AutoPlate XL plate changer system ensures fast makeready.
Both features are important to Aumüller. Day-to-day operations are shaped by frequent job changes, with the company imaging around 350,000 plates a year. Added to this is the fact that virtually no proofs are used nowadays. Instead, printing is usually performed in line with the German process standard for offset printing (PSO). "This requires absolutely reliable control, and Inpress Control is essential to do this," explains Christian.
However, for the Heidelberg field tester and development partner, industrial printing means more than just using state-of-the-art equipment. "For us, it also means having everything in duplicate – in other words, always presses of the same generation," explains Stefan. This has numerous benefits – Aumüller gains enormous advantages in terms of makeready times, as large numbers of jobs can be shared out among preconfigured presses. "However, first and foremost we ensure we can supply our customers at any time."
If productivity gains are available, the company replaces the presses as quickly as possible. For example, between 2006 and 2008, all the Speedmaster SM presses were replaced by Speedmaster XL machines. "We're committed to working with the best performing technology on the market at any given time," says Christian: "That's our motto." This is also shown by the corresponding investment rate of 15 percent – three times higher than the average.
Stefan Aumüller Interview
Intelligent error elimination
As important as productivity gains are for Aumüller, they don't exactly make print shop management easy. "As we increase productivity and employee numbers each year, we also need to generate more output each year," says Stefan. "We have a duty to grow."
In the past, automotive quality leaders such as BMW and Audi in particular ensured the necessary growth at Aumüller. BMW has been an Aumüller customer for over 60 years, while the print shop has supplier number 89 at Audi – today's well over 100,000 suppliers are given a number. Aumüller primarily produces catalogs and operating instructions for the two premium car manufacturers. In particular when models are changed or new ones are launched, these print products call for absolute maximum performance from man, machine and organization. In February 2016 alone, Aumüller printed over 1.4 million sheets on all six presses using 1,344 imaged plates – and all on a single day!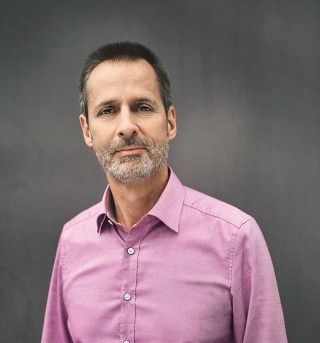 "Industrial for us means having everything in duplicate – in other words, always presses of the same generation."
Operating instructions in particular involve enormous logistical challenges. "Within just a few weeks, we sometimes have to produce a total of 400 versions of operating instructions for different models in 26 languages and deliver them to manufacturers' production plants in Europe," explains Stefan. "No errors are allowed in this process, even if we have a good 1,000 pallets here that are confusingly similar."
To minimize the error rate, Aumüller has implemented its own barcode system that stores the real-time storage space for each pallet in a database. To maximize reliability in production, print sheets are provided with barcodes that can be scanned. The system sounds an alarm immediately, if parts of a sheet are missing, the sequence isn't correct, or a sheet with a different language has been inserted.
A new growth customer – Flyeralarm
As well as BMW and Audi, Adidas has also been part of the company's customer base for the last 40 years, with Aumüller Druck primarily producing dealer catalogs for the sporting goods manufacturer. A more recent milestone in the company's success story is the partnership it has enjoyed with online print shop Flyeralarm since 2008. "Our very productive collaboration is a gentlemen's agreement based on mutual trust," explains Christian confidently.
The process for placing orders is clearly defined. Aumüller produces all the adhesive binding and hard covers for Flyeralarm for runs of 200 and upwards. As soon as Flyeralarm has sent the data, it is checked at Aumüller. Aumüller staff clarify any problems directly with the end customers. The ordered goods are then produced and sent to the customer directly. "Initially, the industry viewed our partnership with Flyeralarm very critically. It was felt that BMW printer Aumüller was now doing cheap junk," says Stefan. "But most people soon envied us because the work actually involves large numbers of high-quality product catalogs and we're part of an innovative market sector that has great potential and ensures good capacity utilization."
Aumüller is also innovative in management, as the lean production processes go hand in hand with lean management. "We deliberately avoid interfaces between departments and this gives us extremely short lines of communication," explains Stefan. All administrative staff are thus also buyers and material planners, while employees in prepress act as data checkers, impositioners and plate makers and complete jobs right through to the print interface, where it isn't the head of department but the printer who okays the sheet. Of the 150 employees, 125 are employed in production. "This, too, shows we're a true production company," says Christian.
Along with school and integration prizes and scholarships for studying abroad, the company also plays an active role in corporate social responsibility in Regensburg. A further special feature at Aumüller in Regensburg is that about 60 percent of employees are silent partners, who thus share directly in the company's success. This is matched by the willingness to take on a great deal of responsibility. "Employees set the pace at our company," says Stefan. "This works very well because everyone puts their heart and soul into their work and shows a real sense of sportsmanship."
The company certainly sees itself well positioned for the future, even though the brothers assume the commercial market will shrink by 2 to 3 percent a year. That's one of the main reasons why the pair have been
focusing intensively on topics such as lean management and Industry 4.0 for a number of years. With a holding in the Peschke print shop since 2014, Aumüller is also represented directly on the key Munich market. And the two brothers have something else going for them with their responsible approach to business – their down-to-earth lifestyles. "Expensive cars or villas in Tuscany are simply not so important to us."