Arka-Druk, Poland:
"The Promatrix CS 106 fits well with our concept of industrial production."
Polish packaging print shop Arka-Druk in Lapy near Bialystok has begun production with the world's first Promatrix 106 CS die cutter. At an open house event at the end of March 2017, other Polish printers witnessed this world premiere with practical demonstrations and were provided with comprehensive technical information. The Promatrix 106 CS is the first machine to result from the partnership concluded last fall between Chinese manufacturer Masterwork Machinery Co. Ltd. (MK) and Heidelberg. The machine is being sold exclusively by Heidelberg.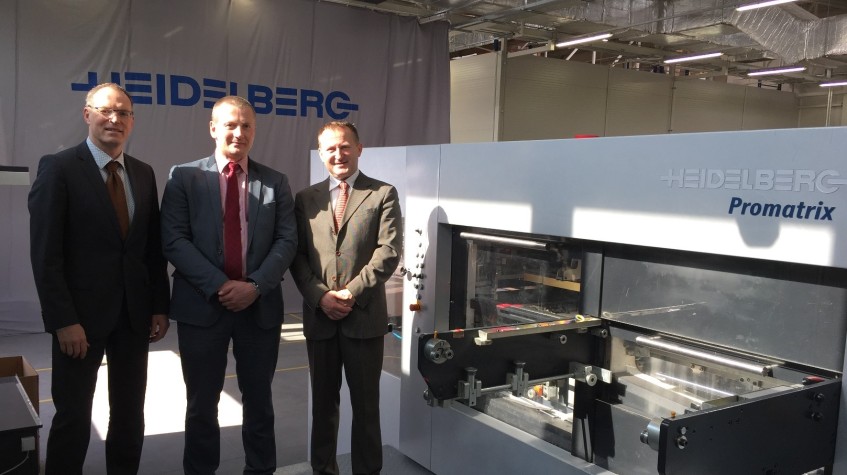 Arthur Bach (center), owner of Arka-Druk, is delighted with the Promatrix 106 CS.
Following lengthy and extensive testing, Arka-Druk is now benefiting from the comprehensive standard features of the Promatrix 106 CS and is delighted with the high quality.
Arka-Druk was founded in 2000, has 70 employees, and supplies discerning customers in the packaging industry, including pharmaceutical and cosmetics companies. Its excellent experiences with the Varimatrix 105 CS die cutter and Easygluer 100 folding carton gluing machine, also installed by Heidelberg, underpinned its decision to purchase the Promatrix 106 CS. "We were looking for a die cutter for runs and lead times that are becoming ever shorter," explains owner Arthur Bach. "The tests with the Promatrix 106 CS met all our expectations. The die cutter fits in well with our concept of industrial production with structured processes and delivers high quality with reliable production," he adds.
Further Information
24/7 Expert Support

We offer 24-hour technical and application support in many countries.
More

Think Economically, Print Ecologically

Minimizing waste, energy consumption, and emissions.
More

CO2 neutral from the Beginning

Ecology begins with the purchase of the machine, which is why we offer all machines CO2 neutral.
More

"Printing starts with Finishing"

Stephan Plenz, Member of the Management Board of Heidelberger Druckmaschinen AG, about the realignment and future of the Postpress portfolio. Video