HGV, France:
High-quality foil embossing in industrial production: Easymatrix 106 makes it possible.
H. Granger-Veyron (HGV) based in Privas in the Ardèche department of France has proven expertise in the world of fragrances. And a new hot-foil embossing machine so that the company with 10 employees can provide the best services in the future also. HGV specializes in designing and manufacturing fragrance revealers such as fragrance strips, smelling strips, and fragrance blotters, and numbers the most famous perfumes houses in France and the whole world among its customers.
In the past, the company relied on traditional cylinder presses for its embossing, however in August 2017 it added an MK Easymatrix 106 FC hot-foil embossing machine from MK Masterwork, a partner of Heidelberg, to its production facility. It was the first MK Easymatrix 106 to be installed in France, and one of the first in Europe.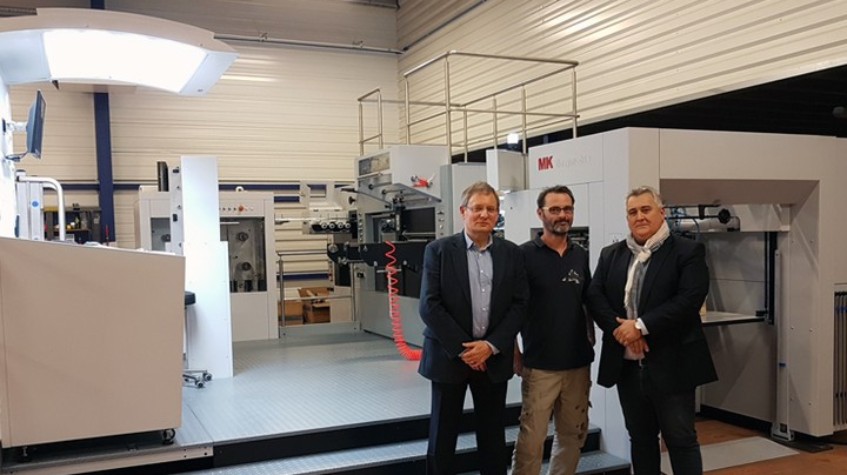 Thanks to the 20 heating zones, the machine can be precisely set and monitored from the control station.
Embossing speed of 6,500 sheets per hour
The Easymatrix 106 benefits from the technology used in its "big sisters", the Promatrix 106 FC and the Duopress 106 FCSB. Thanks to the 20 heating zones, the machine can be precisely set for the product in question and monitored from the control station.
The embossing die ensures optimal foil use in both directions (longitudinally and transversely). Using large foil rolls means fewer roll changes when producing long runs, and the winder system for the used embossing foils simplifies recycling. In addition, the machine is equipped with a preloading table on which the next die-cutting, blind-embossing, or foil embossing job can be prepared while the current job is underway.
The Easymatrix 106 FC can process substrates with grammages above 90 g/m², solid cardboard with grammages up to 2,000 g/m², and corrugated cardboard (exclusively die-cutting operations) up to a thickness of 4 mm, with sheet sizes ranging from 360 x 400 mm to 750 x 1,060 mm, at a die-cutting speed of up to 7,500 sheets per hour. Output of up to 6,500 sheets per hour is possible for embossing.
Industrially produced, high-quality foil embossing at an extremely competitive price: HGV is opening up new dimensions with this machine.
Further Information
24/7 Expert Support

We offer 24-hour technical and application support in many countries.
More

Think Economically, Print Ecologically

Minimizing waste, energy consumption, and emissions.
More

CO2 neutral from the Beginning

Ecology begins with the purchase of the machine, which is why we offer all machines CO2 neutral.
More

"Printing starts with Finishing"

Stephan Plenz, Member of the Management Board of Heidelberger Druckmaschinen AG, about the realignment and future of the Postpress portfolio. Video