Fujifilm and Heidelberg target growth potential of the industry
06/06/2016
World premiere of new industrial digital printing machine sets industry benchmark
Exploring new market segments strengthens service & consumables business
Both companies will continue to seek future collaboration areas together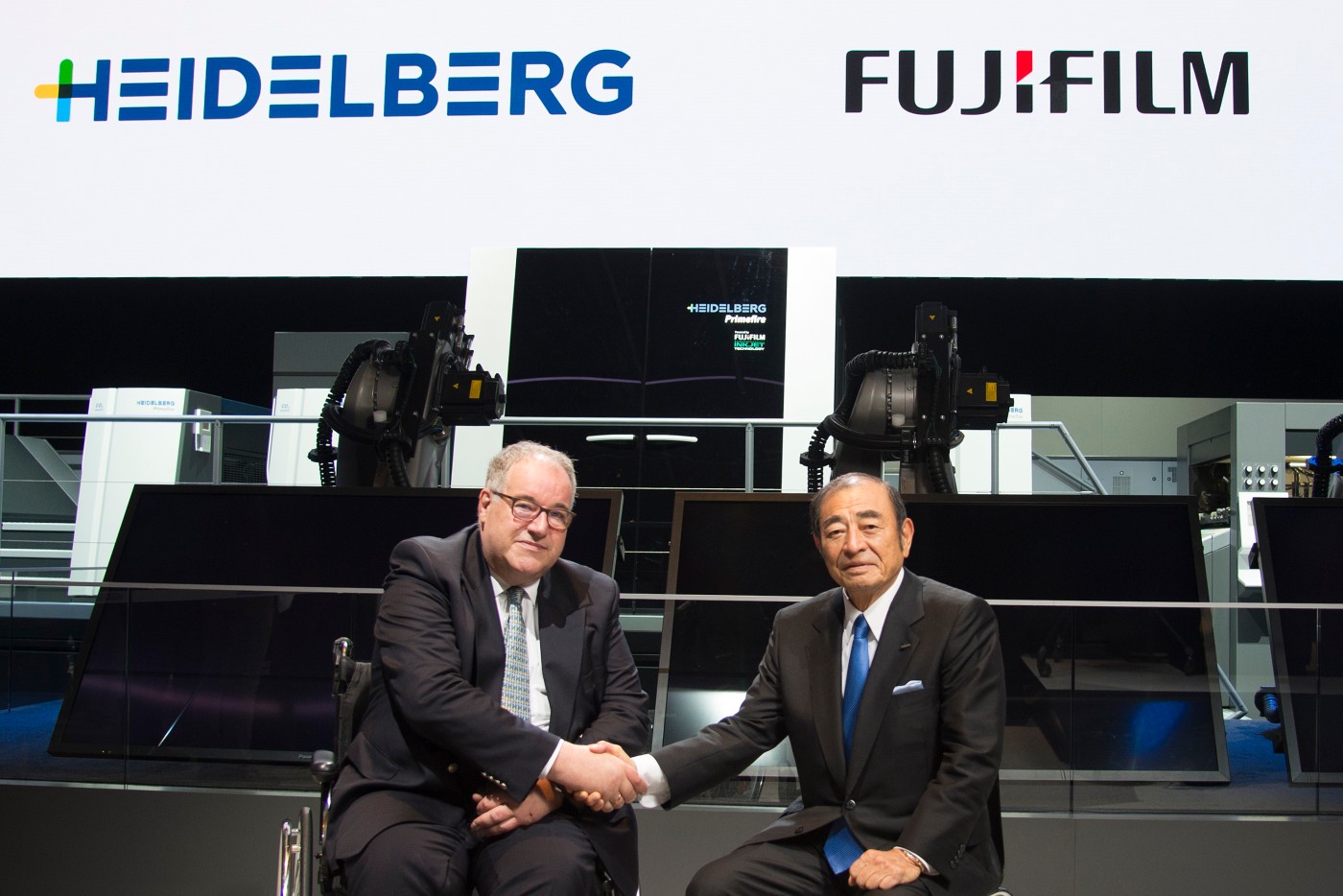 Chief Executives from Fujifilm and Heidelberg (Shigetaka Komori (ri.) and Dr. Gerold Linzbach) meet at drupa 2016 during the world premiere of the Heidelberg Primefire 106 powered by FUJIFILM Inkjet Technology.
At drupa 2016, the CEO's of FUJIFILM Corporation (Fujifilm) and Heidelberger Druckmaschinen AG (Heidelberg), Shigetaka Komori and Dr. Gerold Linzbach confirmed successful partnership and agreed to seek further collaboration between the two companies to target growth potentials in the printing industry.
World premiere of new industrial digital printing machine sets industry benchmark
In the digital area, Fujifilm and Heidelberg celebrate the successful world premiere of Heidelberg Primefire 106 ('Primefire') powered by FUJIFILM Inkjet Technology in drupa 2016 and are looking forward to driving further growth of the digital printing market. The completely new sheet-fed production inkjet device is the first commercial offering resulting from the collaboration, establishing a new category for industrial printing applications in the B1 format. The launch at drupa 2016 will be followed by a planned first customer shipment in 2017.
Exploring new market segments strengthens service & consumables business
Additional synergies are expected by leveraging sales strengths and global customer service network in each organization. In combination with the application knowledge and skills, the high performing products from both partners to support future customer needs. By introducing the new digital system into the graphic arts market Heidelberg and Fujifilm expect respective consumables businesses to benefit as customers focus on sourcing the best performing consumables from partners with strong global reach.
Both companies will continue to seek collaboration areas together
Heidelberger Druckmaschinen AG
For further information, please contact:
Further Information