drupa 2016: Heidelberg grows with digital printing – 1,000th Versafire sold
06/02/2016
New name and neon yellow fifth color added
Almost all customers chose the optional Prinect Digital Front End
Heidelberg and Ricoh extend their partnership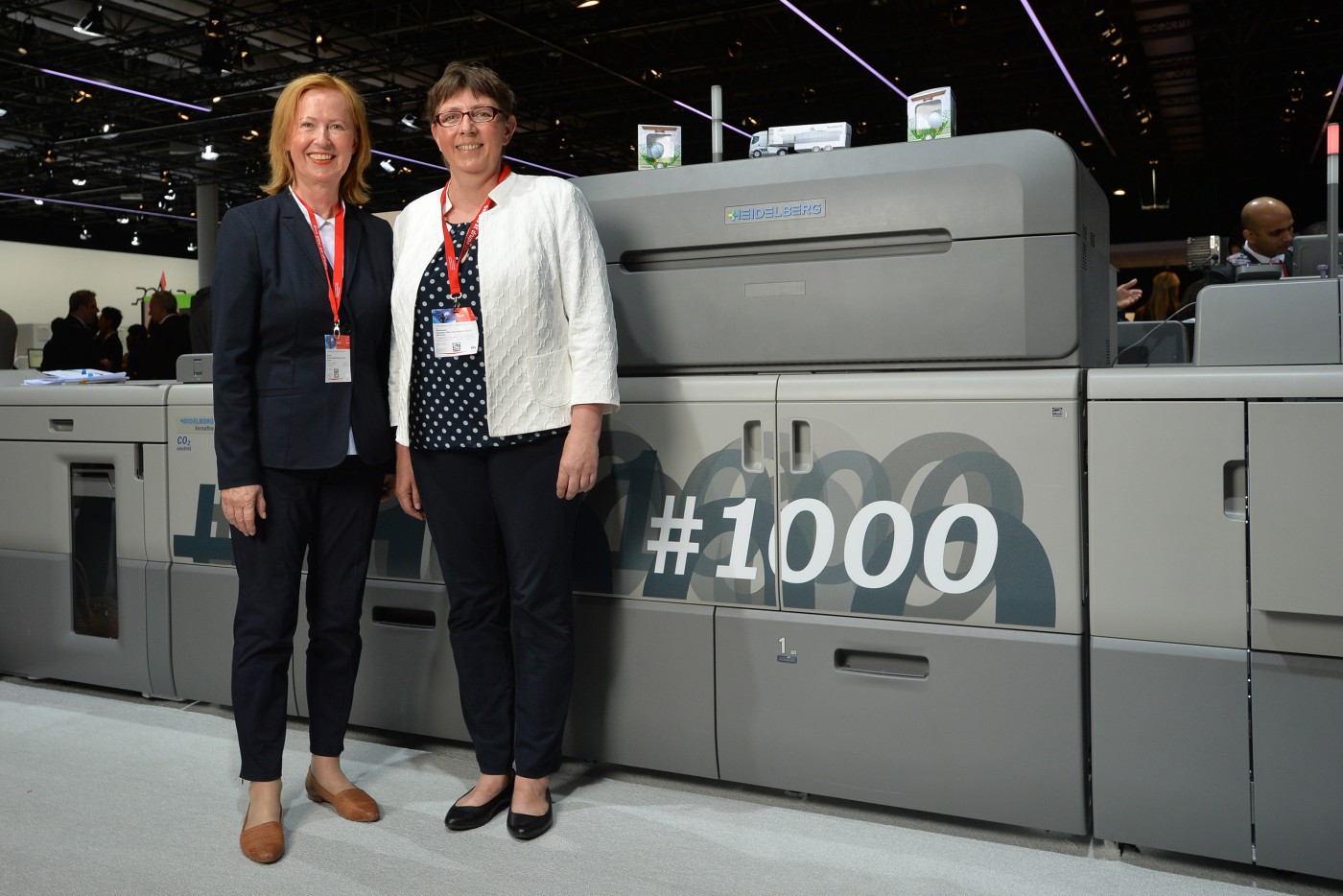 The ink is dry: Eva Biechteler (right), Managing Director of Komplan Druck & Design, and Helga Flex from Komplan, in front their new Heidelberg Versafire CP. Since the beginning of the partnership with Ricoh, Heidelberg has thus sold 1000 Versafire digital printing systems worldwide.
Today at drupa, Heidelberger Druckmaschinen AG (Heidelberg) sold its worldwide 1000th Versafire (formerly Linoprint) digital printing system to a customer from Germany. Komplan Druck & Design in Munich (www.komplandruck-muenchen.de), specialist in digital printing applications, chose a Heidelberg Versafire CP with a printing speed of 110 pages per minute. Komplan has also opted for a Versafire CV with its extended range of applications and the possibility of a fifth color. "We are a business with more than 20 years of practical experience in digital printing. The focus of our company today is sophisticated digital business color printing. For this we need a highly productive, reliable and high-quality digital printing system. The Heidelberg Versafire CP and the particularly variable Versafire CV are just the right solutions for this scope of applications and they perfectly complement our portfolio," explains Eva Biechteler, Managing Director of Komplan the reasons for the investment.
Heidelberg is underlining its continued growth in the digital segment with exclusively digital printing customers such as Komplan. The Komplan example demonstrates how the company can benefit from its customers' experience and application know-how in this market segment.
New name and fifth color added
Top-selling Prinect Digital Front End: greater integration and certainty in the production process
Digital printing system, service, and consumables – Heidelberg offers everything from a single source
Heidelberg and Ricoh extend their partnership
Further Information