Expert Talk.
Haptic finishing effects: attention-grabbing at the POS, economic in production.
Packagings with finishing effects that appeal to the sense of touch are very much on trend. In a product landscape dominated by visual stimuli, they make the difference on the shelf by awakening the desire to buy.
And the best thing: the touch and feel designed to stimulate sales complete with premium look can be realized inline, reliably and economically, in just one machine pass. This is made possible by the powerful Speedmaster XL 106 double-coating presses and tailored textured coating applications.

In the black colored area: visualization of the special-effect coating in the image
A velvety-soft or leathery surface: more and more premium packagings for cigarettes, cosmetics, perfumes, and spirits are attempting to entice buyers with a fresh tactile experience. "If a product is to sell well, it must give the consumer an additional sensory incentive to pick up the packaging. Haptic effects do precisely this," says Jochen Pecht, Product Manager Sheetfed at Heidelberg.
Producing multi-sensory effects in one pass
Speedmaster double-coating presses not only have a noticeably positive impact on the consumer, but also on the packaging production. "Up to now, haptic finishing effects were complicated to produce, requiring either screen or gravure printing or embossing. With Speedmaster double-coating presses, all desired applications, whether special-effect, textured, or spot coating, can be realized during the printing process. One pass is all that's needed," explains Peter Schwaab, also Product Manager Sheetfed. Repeated setup and waiting for ink to dry is no longer necessary. The start-up waste is significantly reduced. And the finished product can be evaluated or sent to postpress immediately after printing. Navigated printing further reduces the makeready and throughput times, even with such complex jobs. The intelligent assistance system Intellistart 2 determines the shortest job change and guides the operator through the individual makeready steps.

The best advice on highly productive production workflows
Customers are catching on to these benefits. "We're getting increasingly frequent inquiries in our Print Media Center (PMC) Packaging in Wiesloch. We print a wide range of finishing effects with textured and special-effect coatings as well as cold foil there every day on a Speedmaster XL 106-8+LYYL with FoilStar ," explains Jochen Pecht. This concentrated know-how benefits Heidelberg customers.
Advice on machines, processes, applications, and materials is very much in demand, particularly for complex jobs. Many customers want to achieve multiple high-end finishing effects. At the same time certain requirements have to be met, for example in relation to scratch resistance, product safety, and sensors. On top of this comes the use of certified consumables, as prescribed for packagings for cigarettes, food, or medicines.
"Together with our customers, we find the best solutions. The aim is to minimize machine runs in order to achieve top quality and economy with a streamlined inline production setup," reports Peter Schwaab. For the customer A&R Carton, which produces exclusive cigarette packagings in Kriftel, the tests revealed that a Speedmaster XL 106-9+LYYLYYL is the most economical solution. Thanks to the three coating units, the desired finishing effects with textured and special-effect coating such as gold, silver, and Iriodin pigments can be applied in one printing pass. The customer was able to run through all the production steps in the PMC and test the solution thoroughly. Not just the Kriftel plant benefits from the insights gained, but the entire A&R Group.

Tailored complete package increases stability and output
In addition to advice and expertise, Heidelberg also provides its customers with solutions designed to increase productivity. For example, the extensive practical knowledge of the application specialists was put to use to develop special consumables for textured coating applications together with colleagues from Saphira.
"The result is a solution package for our Speedmaster XL 106 double-coating presses where the ink, coating, and flexo plate parameters are optimally coordinated. With this package, we want to ensure that our customers achieve excellent quality with maximum performance, even with very demanding jobs," says Jochen Pecht.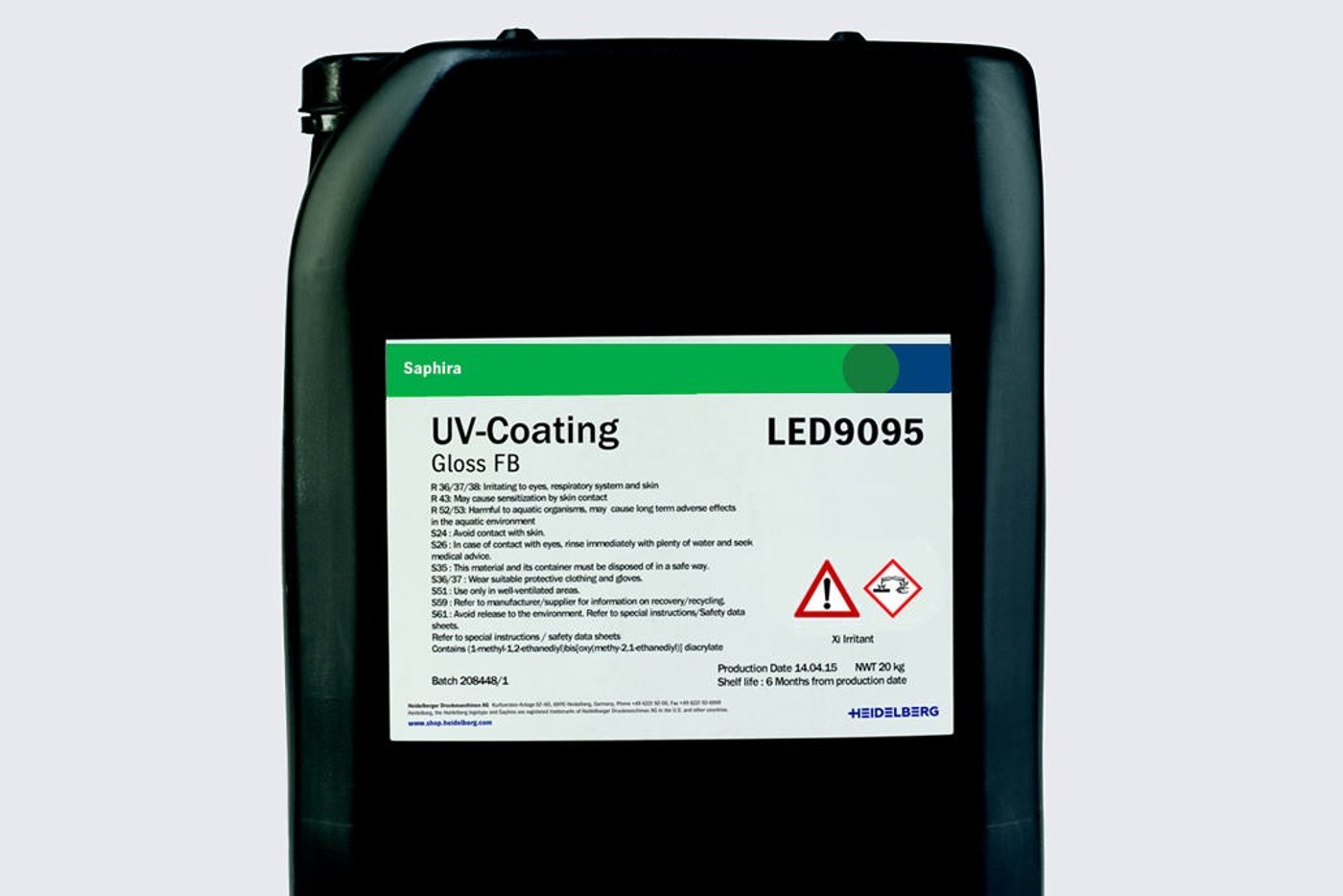 However, you do not need a machine with two coating units to achieve such sophisticated effects. Customers whose machine only has one coating unit can also achieve printed products with a high degree of finishing with a special screen roller with a high pick-up volume, Saphira coating, and a flexo plate with gravure printing screen. The experts at Heidelberg will be happy to advise you.